About IIIM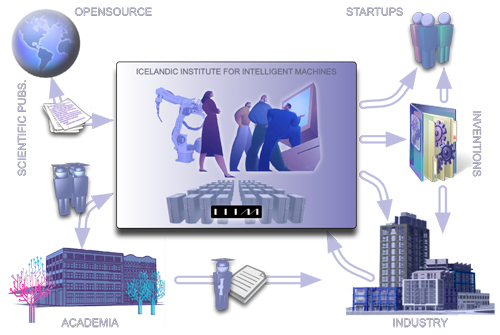 The Icelandic Institute for Intelligent Machines (IIIM) is a non-profit institute structured specifically to accelerate the rate of innovation by bridging between academic research and industrial engineering needs, through exchange of ideas, people, projects, and intellectual property.
Focusing on the areas of artificial intelligence, robotics and simulation techniques we develop novel software tools, methods and systems exhibiting new levels of capability in areas such as machine learning, sensing and mobility that can be applied in a wide range of applications including manufacturing, virtual worlds, games, bioinformatics, energy and climate research.
The institute is funded through sponsorship from industrial and academic institutions, competitive research funds, and technology licensing. These include Rannis, Reykjavik University's School of Computer Science, CADIA – RU's AI laboratory, Össur hf, and others. Industrial members provide challenging practical questions, while universities provide doctoral students, postdoctoral associates, and research faculty.
Opening Doors to New Opportunities
IIIM management and licensing schemes introduce a solid framework for:
Collaboration between parties from different industries
Generating successful spinoff companies
Providing Iceland with an exciting institute of innovation and education in these technologies