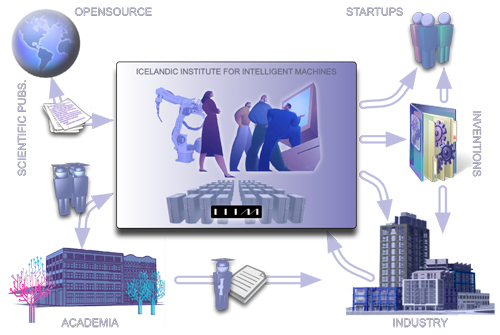 The Icelandic Institute for Intelligent Machines (IIIM) is a non-profit institute structured specifically to accelerate the rate of innovation by bridging between academic research and industrial engineering needs, through exchange of ideas, people, projects, and intellectual property.
Focusing on the areas of artificial intelligence, robotics and simulation techniques we develop novel software tools, methods and systems exhibiting new levels of capability in areas such as machine learning, sensing and mobility that can be applied in a wide range of applications including manufacturing, virtual worlds, games, bioinformatics, energy and climate research.
The institute is funded through sponsorship from industrial and academic institutions, competitive research funds and technology licensing. These currently are Rannis, Reykjavik University's School of Computer Science, The European Union and domestic competitive research funds.
Opening Doors to New Opportunities
IIIM management and licensing schemes introduce a solid framework for:
Collaboration between parties from different industries
Generating successful spinoff companies
Providing Iceland with an exciting institute of innovation and education in these technologies
Bridging Academia and Industry
IIIM's three to nine- year development horizon connects industry's typical two-year product horizon and the decade-or-more research horizon in academia. As a result, industrial sponsors can more effectively plan their product development trajectories, and academics get opportunities to focus their research on industry-relevant questions. A 40/60 ratio between externally and internally motivated projects not only stimulates progress in sponsors' interest areas but also advances high-tech solutions in a globally competitive context.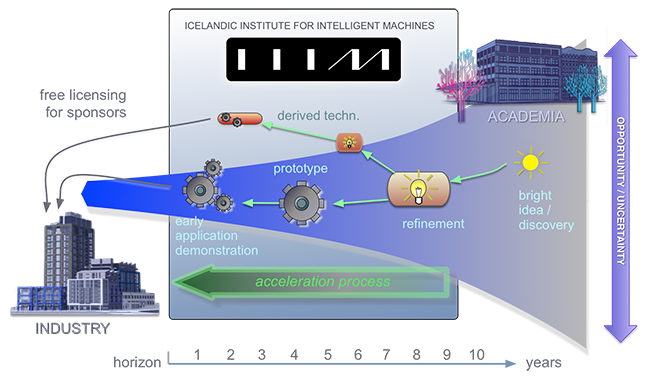 IIIM helps subscribing companies expand their horizon and produce advanced technologies sooner. Bridging between academia and industry, IIIM increases flow of ideas, people and projects between participants, speeding up their progress and improving the quality of their work.
Founding Members
The institute was founded in collaboration with industrial and academic institutions. These are CADIA, Reykjavik University School of Computer Science and CCP. Industrial members provide challenging practical questions, while universities provide doctoral students, postdoctoral associates, and research faculty.