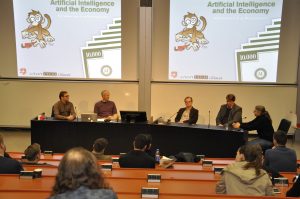 The annual AI Festival, Gervigreindarhátíðin, was held on November 11th 2016 at Reykjavík University (RU). Over 150 attendees flocked to learn about the latest advancements and the progress that artificial intelligence has made this year and half as many watched a live feat of the lectures online.
The aim of the AI Festival is to raise awareness of AI and high-tech companies among both the general public and industry players. This open forum allows the cluster of high-tech companies in Iceland to incoprorate artificial intelligence for a unique to problem solving.
The focus of this year's Festival was how the invasion of artificial intelligence and extensive automation into our daily lives will affect the economic system. It also covered some ground breaking new approaches in economic research applying agent-based simulation.
Key note speaker Prof. Doyne Farmer spoke in his lecture of why an evolutionary theory of technological change is needed and talked about economic growth from the perspective of Complexity economics. IIIM scientist Dr. Jacky Mallett then introduced her banking simulation "Threadneedle".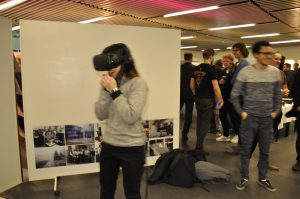 Other speakers included Dr. Magnús Torfason, Assistant Professor at the University of Iceland School of Business, as well as IIIM's Founding Director, Dr. Kristinn R. Thórisson, Professor at Reykjavik University School of Computer Science and CADIA's director, Dr. Jón Guðnason, Assistant Professor at RU's School of Science and Engineering.
For those interested in the lectures they will soon be available on our Youtube Channel.
The lectures were followed by a lively panel and then a party  where attendees had the opportunity to have a glimpse at some of the most advanced products, services and research in the field of AI, automation, and high-tech in Iceland.
The festival is a collaboration between IIIM and CADIA and was sponsered by Marel, a leading global provider of advanced food processing systems and services.
Check out photos from the festival: