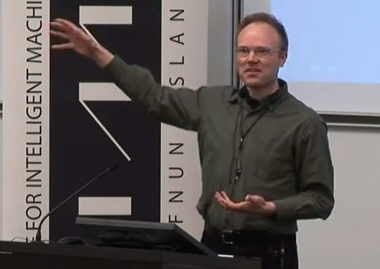 Dr. Hannes H. Vilhjálmsson introduced the Ambient Assisted Living project which is aimed at solving some of the challenges presented by the world's aging population. Dr. Vilhjálmsson envisions a complex system that would allow older populations to remain in their homes and independent for as long as possible. The system would receive streams of information to determine if someone is cooking, resting, or in distress so that it could solve real world problems by responding appropriately. 
This presentation is a part of a series of presentations that were held on IIIM Open Day last spring.
This year IIIM Open Day was held in collaboration with RU's Center for Analysis and Design of Intelligent Agents (CADIA), which is one of its closest collaborators making for very impressive and interesting presentations.
Open Day Presentation: Dr. Hannes H. Vilhjálmsson