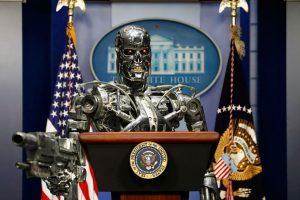 On their path to world domination, intelligent machines will steal all our jobs, but could they (or should they) ever run for president? For voters disillusioned by the current state of politics, this could provide a viable alternative.
A recent campaign advocates for an artificial intelligence, known as Watson, as a candidate for the 2016 elections for the President of the United States of America.

However, you're unlikely to see a WATSON 2016 sign in anyone's front lawn in the months leading up to Election Day. The supercomputer won't participate in televised debates, speak at a national convention, or slam an opponent's voting record. Watson doesn't kiss babies, court super PACs, or email campaign supporters for donations. Watson never even leaves its room.
Watson's 2016 campaign can surely be seen as a rebuke of the state of modern politics, but the project raises some interesting questions: Are transparency, cold logic, and the ability to perform 80 trillion operations per second the qualities of a good president?
Journalist Daniel Oberhaus attempts to answer these questions in a recent article for Popular Mechanics, a service magazine covering a variety of information on technical developments.
Read about the AI community's response to Watson's 2016 presidential run, including IIIM Director Kristinn R. Thórisson, who has himself combated the narrow limits of AI by building an AI from the ground up with the tools to manage its own cognitive abilities.