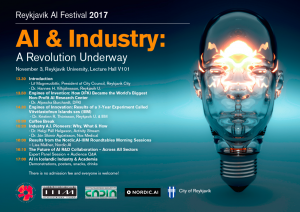 IIIM and CADIA welcome you to their annual AI Festival this coming Friday, the 3rd of November!
The lasts 5 years have seen interest in artificial intelligence (A.I.) and related technologies grow beyond specialist groups, entering the consciousness and daily lives of the general public via the media, as well as its application in products offered by Facebook, Apple, Tesla, and Google. With so many interested in the potential of artificial intelligence, attention is on whether these new technologies can deliver the benefits many have predicted. Journalists don't seem to get tired of writing about the dangers of AI for society and humanity, but do people believe it? 
This year's Reykjavik AI Festival will address these questions with authority, create potential for new opportunities for collaboration, and forge new ties between industry and academia — inside and outside Iceland.
The A.I. Festival is an annual event held by the Icelandic Institute for Intelligent Machines and Reykjavik University's A.I. Lab, CADIA this time teaming up with Nordic.AI — an overall organization for companies and researchers in the field of AI in the Nordic region.
The keynote speaker of this year's festival is Dr. Aljoscha Buchardt, Senior Researcher at The German Research Center for Artificial Intelligence (DFKI), the worlds biggest A.I. lab.
The festival starts with a Nordic.AI-IIIM Roundtables sessions held in the morning of the event. The roundtables are a closed even which will bring together industry, academia, and government agencies to work on a platforms for unified data sharing, industry-academia collaboration, and talent identification, search, and evaluation. The sessions are designed around the format of "Google Sprints" — a framework for organizing diverse teams to tackle a problem — to further community building, coordinated marketing, and internationalization activities of the AI ecosystem.
The lectures start at 13.30 pm and at 5 pm there will be a party and an A.I. exibithion where attendees can enjoy a glimpse of some of the most advanced products, services and research in the field of AI, automation, and high-tech in Iceland. Live music performed by "Live Coding" musician Hlöðver Sigurðsson from Berlin.
For those unable to attend the lectures can be live streamed here:
https://livestream.com/ru/aifestival2017
All the lectures will be in English and the festival is open to everyone.
We look forward to seeing you!