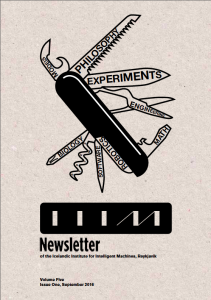 The latest issue of IIIM's newsletter is out now!
In this issue we cover the benefits and challenges of interdisciplinary research. Interdisciplinary research empowers researchers to have more than one viewpoint on a problem and tackle the questions that remain unanswered in a particular field from new angles bringing scientific disciplines forward.
Dr. Ipke Wachsmuth, professor of Artificial Intelligence  and former director of the Center for Interdisciplinary Research (ZiF) at Bielefeld University in Germany, shares his experience on interdisciplinary research undertaken at the institute.
Also get acquainted with IIIM's collaboration model for startups and high-tech companies and hear what our collaborators have to say about us.
Happy reading!