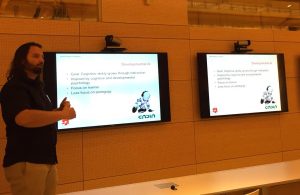 The 2016 AGI conference, which is part of The Joint Multi-Conference on Human-Level Artificial Intelligence 2016, successfully concluded last week in New York City.
This conference features several keynotes speeches by leading thinkers from different fields relating to human-level AI research, including work by IIIM's director and staff.
Continuing the mission of past AGI conferences, AGI-16 gathers an international group of leading academics and industry researchers involved in scientific and engineering work aimed directly toward the goal of Artificial General Intelligence.
Continue reading AGI-2016: The Road Towards Artificial General Intelligence →