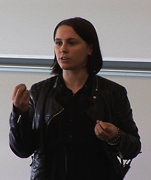 In this presentation Guðrún Fema Ólafsdóttir, research assistant at IIIM, is introducing her project on simulated self-directed growth of human tissue. She aspires to create a new method for creating simulations of complex processes in the absence of a full mathematical model. Results of this project could benefit not only scientific but also medical understanding of biological processes.
This presentation is part of a series of presentations that were held on IIIM & CADIA Open Day in spring 2013. 
All presentations from IIIM & CADIA Open Day can be found on Youtube.
Open Day Presentation: Guðrún Fema Ólafsdóttir