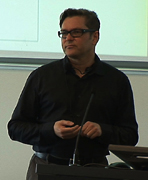 Dr. Kristinn R. Thórisson closed IIIM Open Day 2013 with a talk on Spatio-Semantic Knowledge for Intelligent Household Robots. He discussed how these robots will perceive and understand their environment, and could change the face of robotics.
This presentation is part of a series of presentations that were held on IIIM & CADIA Open Day in spring 2013.
All presentations from IIIM & CADIA Open Day can be found on Youtube. 
Open Day Presentation: Dr. Kristinn R. Thórisson