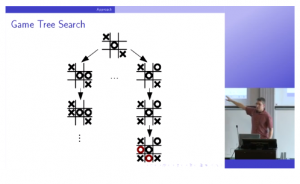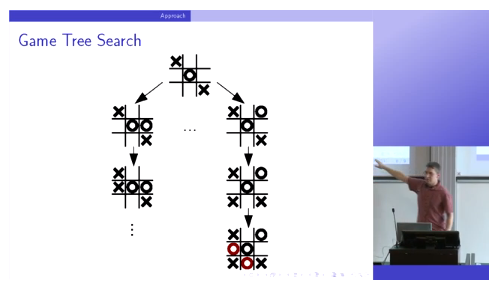 Dr. Stephan Schiffel gave a talk on General Game Playing at IIIM's and CADIA's AI Festival. In the last decades, Artificial Intelligence was very successful in developing programs that play on par with human experts or even beat them in such complex games as Chess, Checkers, Backgammon or Poker. Why are there still other games we have not solved – for example the board-game Go? The area of General Game Playing tries to bridge the gap between these different games and develop more general solutions. Dr. Schiffel provides a look behind the success of CADIA in this field and discuss how this research is relevant beyond playing games.
Dr. Stephan Schiffel is a professor in computer science at Reykjavik University. He received his PhD in 2011 from Technische Universität Dresden. His current research interests are in Intelligent Systems, Game Playing, Knowledge Representation and Reasoning.
This presentation is part of a series of presentations that were held on IIIM & CADIA AI Festival in 2014.
All presentations from IIIM & CADIA AI Festival can be found on Youtube.
AI Festival 2014: Dr. Stephan Schiffel – Playing to Win: Success of CADIA'S General Game Playing Machine

https://www.youtube.com/watch?v=Oh5JnDtd3II
About The AI Festival 2014
IIIM and RU's CADIA collaborated on hosting and organising the AI Festival 2014. The aim was to get a glimpse into the future of this fast-growing research field. The theme was Artificial General Intelligence and the festival covered the enhancements of intelligent machines, future possibilities of automated high-tech solutions and the challenges researchers in the forefront of the field face right now. The AI Festival was a part of Reykjavik University's anniversary celebrations.