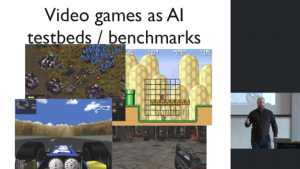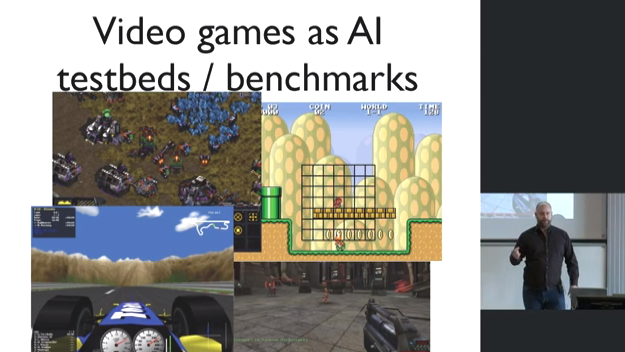 Dr. Julius Togelius gave a talk on the challenges of general video game playing at IIIM's and CADIA's AI Festival. AI agents have been developed for a large number of games, but being able to play a single game well does not mean that an agent possesses any general intelligence. An agent that plays Pac-Man well could probably not play Super Mario Bros. A human player would, after learning to play 2D arcade games in general, quickly learn the specifics of each game. The General Video Game Playing Competition (GVG-AI) was set up to encourage the development of agents capable of playing arbitrary unseen arcade games. A long-term goal is to include automatic generation of games and levels as well as automatic playing of these games with or without learning phases. Games are represented in a special purpose Video Game Description Language, and executed by game engine that can interpret any valid game written in this language. The talk outlines the philosophy and challenges of this project. It also present some early results on game-playing abilities of different agents, and progress towards generating complete games.
Julian Togelius is Associate Professor at the Center for Computer Games Research, IT University of Copenhagen, Denmark. He works on all aspects of computational intelligence and games and on selected topics in evolutionary computation and evolutionary reinforcement learning. His current main research directions involve search-based procedural content generation in games, game adaptation through player modelling, automatic game design, and fair and relevant benchmarking of game AI through competitions. He is a past chair of the IEEE CIS Technical Committee on Games, and an associate editor of IEEE Transactions on Computational Intelligence and Games. Togelius holds a BA from Lund University, an MSc from the University of Sussex, and a PhD from the University of Essex.
This presentation is part of a series of presentations that were held on IIIM & CADIA AI Festival in 2014.
All presentations from IIIM & CADIA AI Festival can be found on Youtube.
AI Festival 2014: Dr. Julian Togelius – The Challenges of General Video Playing

https://www.youtube.com/watch?v=iAaleW3ofyk
About The AI Festival 2014
IIIM and RU's CADIA collaborated on hosting and organising the AI Festival 2014. The aim was to get a glimpse into the future of this fast-growing research field. The theme was Artificial General Intelligence and the festival covered the enhancements of intelligent machines, future possibilities of automated high-tech solutions and the challenges researchers in the forefront of the field face right now. The AI Festival was a part of Reykjavik University's anniversary celebrations.